AUSTIN, Texas -- If there's one thing we know, it's that Texas summers are hot. And like so many of us, Nick Lambiase is jumping into Lake Austin. But he's not doing it just to cool down.
Every morning Lambiase dives in and swims a couple miles.
"I mainly swim freestyle and then I recently picked up butterfly and I swim a lot of backstroke, too," Lambiase says.
Lambiase is heading off to Arizona State University this fall.
"I wanted to study computer systems engineering, and the program there was really great," he said.
And so is the ASU swim team, which is why Lambiase is hoping to walk on. He says to have a shot at making it he has to shed a few seconds from his times. Ideally, he'd be training in a pool. But with pools closed because of the coronavirus the lake is his only option.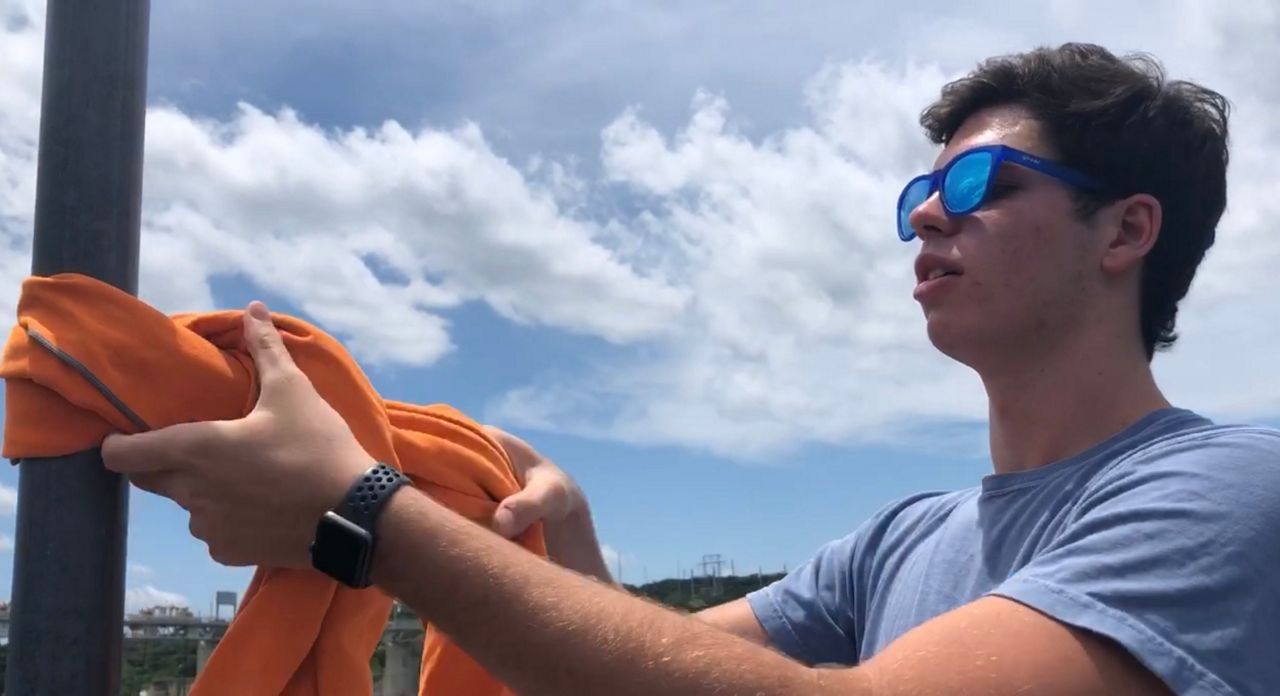 Nick Lambiase ties an orange towel around a pole on the Hula Hut dock in this image from June 2020. (Stef Manisero/Spectrum News)
Part of his routine is tying a neon orange towel around a pole on the Hula Hut dock.
"So that way while I'm out on the water, I have something bright that I can look at, 'cause I've been looking at the roof, but it's not bright enough and I need to be able to see the dock when I'm swimming back," Lambiase says.
And the length of the lake is much greater than the length of a pool.
"Each lap is about 400 yards, so there and back would be half a mile and I usually do six of those," he says.
Six legnths call for some serious fuel. When we asked what he eats for breakfast before his morning swims, he said: "Six eggs, two ounces of sausage, and an English muffin, and then two servings of oatmeal."
That's been his breakfast every day. But Lambiase says he's ready for some things to change.
"Not to offend you," he says to his dad, "but I'm ready to get out of here. I've been in Austin for [the past] four years, for all of high school, all of middle school, and I'm excited to go somewhere new."
His father, Eric Lambiase, is sad to see him go.
"I could use a break on the food bill," he laughs.
But he admits he won't miss the early mornings.
"All those 5 a.m. practices - it was great to have him start driving," he says.
The morning drives to practice haven't changed since he turned 16.
Neither has his competitive drive.
Nick Lambiase prepares for training at Lake Austin in this image from June 2020. (Stef Manisero/Spectrum News)
The lake conditions aren't ideal for competitive swimming.
"I wish I had walls," Nick Lambiase explains. "Flip turns are a big part of swimming and all of our speed comes from that in races so not having those here sort of sucks."
Plus, it's a safety issue.
Nick Lambiase gets out early to try and beat all the boats on the water. He's learned other lessons the hard way.
"There are some sea urchins and if you swim too far up the bank you'll cut yourself, " he says. "I cut my finger the first time I came out here and that was a big mistake."
But if all else goes according to plan, he'll get another four years of doing what he loves.
Nicke Lambiase says he's reached out to the ASU swim coaches and he's still waiting to hear back.
He's a regular walk-on, not a preferred walk-on, so his plan right now is to show up on the first day of practice and make a splash.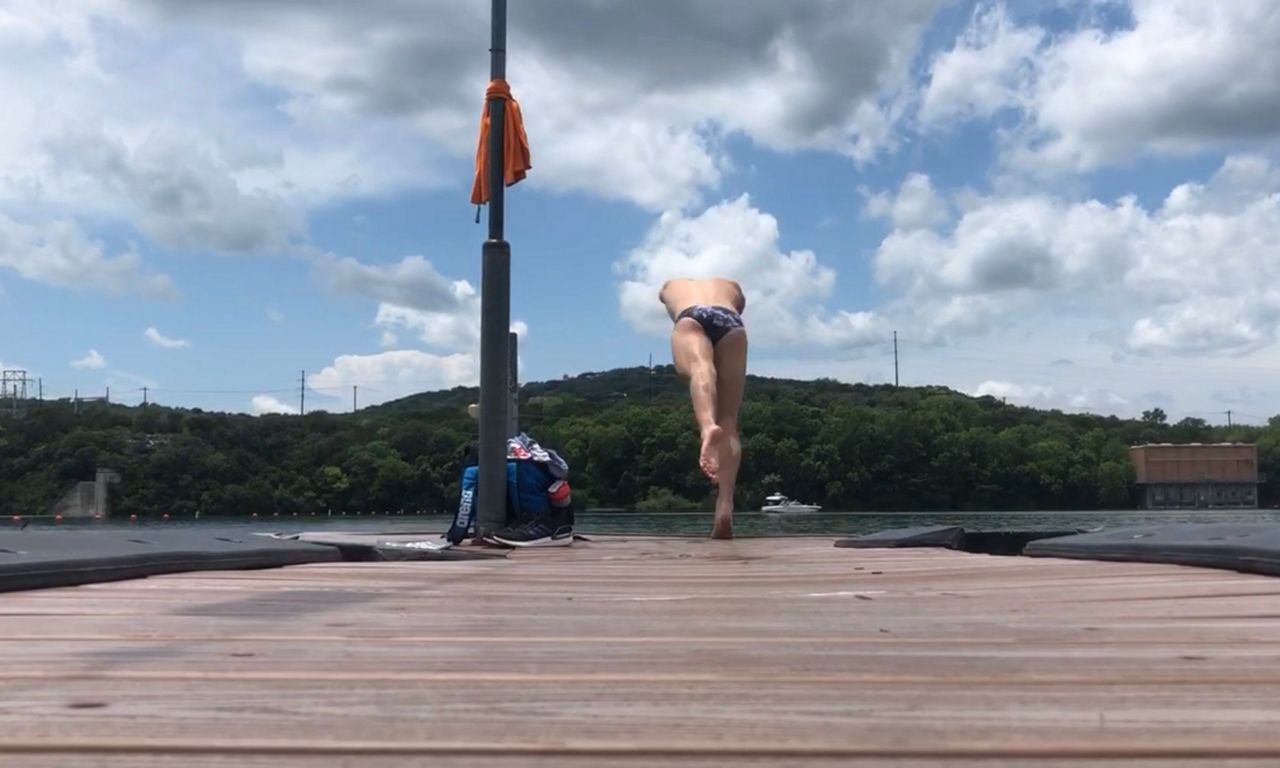 Nick Lambiase dives into Lake Austin in this image from June 2020. (Stef Manisero/Spectrum News